This week was a roller coaster for me and my classmates. We started the week with our first road trip aka #UITroadie to Halifax to take part in Mentorcamp on Monday afternoon and Startup Empire all day on Tuesday.
During Mentorcamp we were exposed to six companies that had taken part in day long meetings with mentors from around the globe. Each company gave a brief overview of their product idea and shared some of the challenges/learnings to date. The six companies were:
Athletigen
VidSnippets
Quimble
Presenter's Podium
Kernl (neo)
SkySquirrel
We had a debrief with our fearless leader Gavin Uhma at Maxwell's Plum over a few pints before heading out to dinner for amazing Thai food at ChaBaa Thai Restaurant.
Tuesday started bright and early with a quick walk to Starbucks for some caffineation before heading to Park Lane Mall for Startup Empire. This was the first event of it's kind for Halifax and it was completely sold out.
Upon arrival I immediately bumped into a former Venture Solutions tenant Rob MacKenzie who was in town for the same event. The guys from VidSnippets are actually in Rob's Master of Technology Entrepreneurship and Innovation class at St. Mary's University.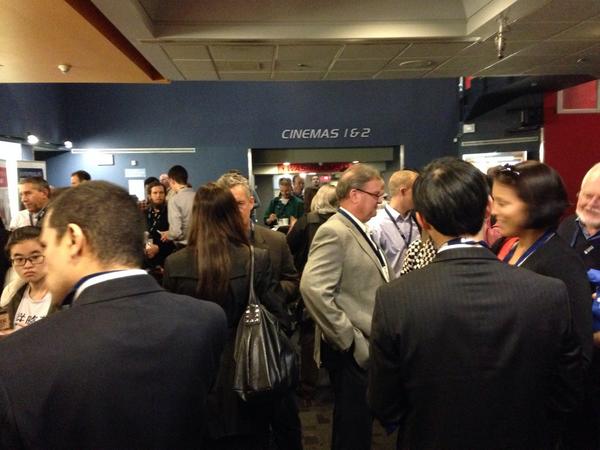 Next I chatted with fellow Caper, Ryan Joseph (MC for the event), just prior to checking in. From there we had a quick continental breakfast before taking our seats for what was to be a great day of learning.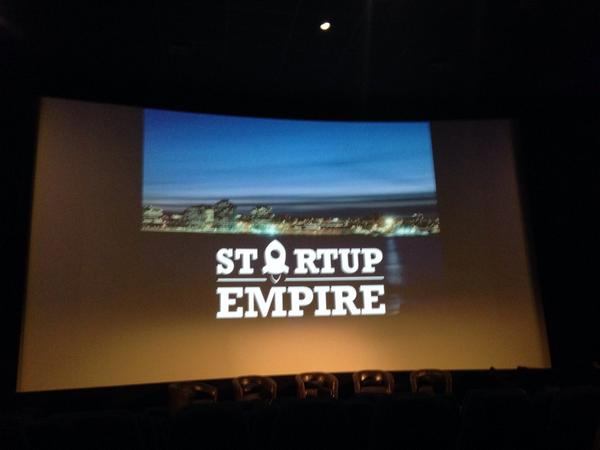 The speakers were some of the most down to earth millionaires (or soon to be) I have ever met and all had their success in the technology startup space.
---
Anatomy of a Hustle
The first presentation was ANATOMY OF A HUSTLE by Michael Litt, CEO of VidYard. Michael gave an inspiring talk about "hustling" and not giving up.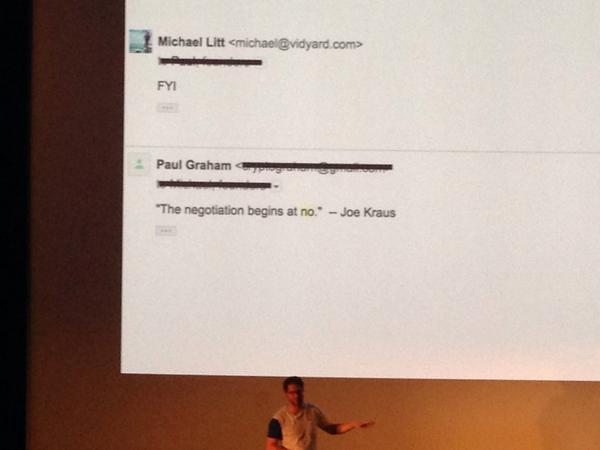 Some of his takeaways were:
"Negotiation begins at NO"
"Talk to your customers or you will fail", VidYard had 1500 active conversations with customers in first 3 months
He recommended to read "Behind the Cloud" by Mark Benioff
---
Killing it with Vision
Next to the stage was Daniel DeBow with this talk KILLING IT WITH VISION. He is now a Salesforce executive but prior to that he founded two startups, the last one acquired by Salesforce. He talked about vision as a simple, inspiring story about the future that makes you want to take action. Salesforce had a simple vision "No Software" and it was at a time when cloud computing was not mainstream.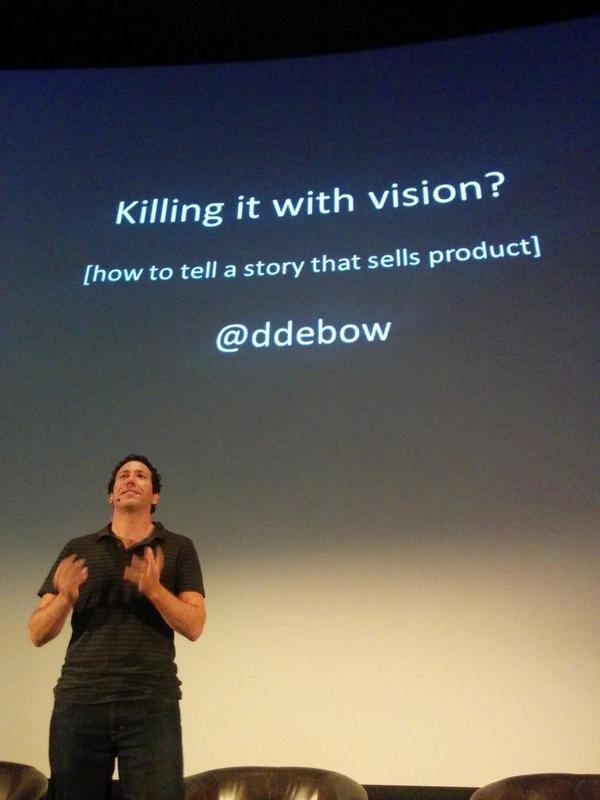 He left us with a great piece of advice that "Nobody knows anything, you have to go figure it out".

Some of his takeaways were:
Have focus, aim small and dominate that space
Controversy is okay, don't worry about offending…disrupt!
Make a kickass t-shirt and people will follow.
---
Finding Incredible Mentors
Next up were Dan Martell and Ben Hindman to give advice on finding great mentors. Dan introduced Ben's new venture as the result of Squarespace and Eventbrite having a baby. A key takeaway from Ben was the statement "ego is the killer" and the new word I have to work into my vocabulary "legitness". According to Ben, when you decide to become a founder you are signing up for something that is epically difficult. He also spoke about different types of currency, not always money. Your story, momentum and of course your "legitness" are all forms of currency.
Ben offered up his office in New York and I think a lot of UIT Startup Immersion folks will be taking him up on it.
---
Closing the Deal
Our next set of panelists gave great insight on pursuing funding for your venture and included David Crow, Michael Litt and Paul LeBlanc. Panel quote, "Congratulating a startup founder on obtaining funding is the equivalent of congratulating a chef for buying groceries".
Main message was that obtaining funding is not a sign of "making it", it is only signifies the beginning.
They also stressed measuring key activities in your business to help you manage better and get shit done!
People want to be educated, not sold too.
Pitching for funding is a 2 way street with both sides selling themselves to each other
Strive to be a thought leader, Paul LeBlanc had great success with whitepapers
---
The Story of Shopify
We heard a very interesting storey of Shopify, had its beginnings as a snowboard retailer. They could not find an online platform to meet their needs so they build one. Next thing you know they started to sell their code to other companies to help them setup their own stores and Shopify was born.
Even-though they are head-quarter in Ottawa they don't view themselves as an "Ottawa" company but a global brand with customers from around the world. Harley recommended reading "Bessemer's Top 10 Laws of Cloud Computing and SaaS". I loved the story about a group of entrepreneurs having a meet up every Friday to brainstorm and bounce ideas off each other. (#CoffeeMastermind)
Some of his words of advice:
"If you want to be comfortable go work for a company. If you want to do something amazing go start a company"
"Get comfortable being uncomfortable"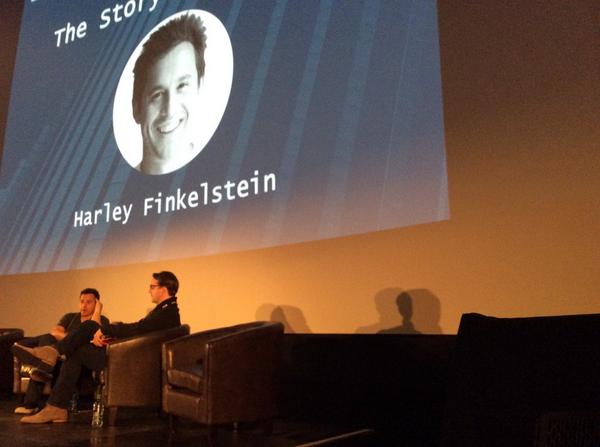 ---
Laying a Foundation for Experimentation and Growth
Next to take the stage was April Dunford, who assured us her presentation was going to be a total bummer and encouraged us to tweet that!
April was very focused with her approach on trying to truly understand who your customers are. She gave some amazing examples of how she reached customers.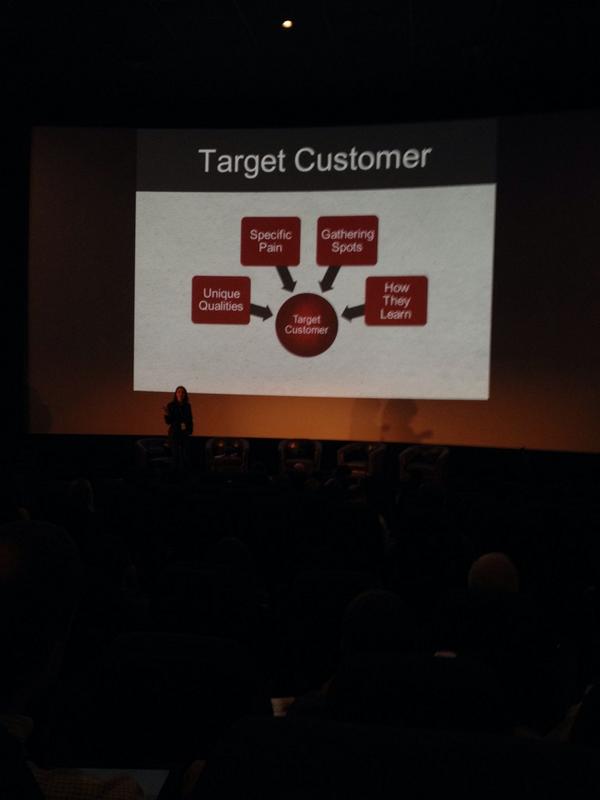 For example, she had an awesome email campaign that was converting like crazy but couldn't understand why customers in the manufacturing sector were not converting. By spending time with one of them she discovered they tend not to use computers, their assistants did and never forwarded the information on. April discovered by spending time with one customer that he checked the fax machine because nobody ever sent him faxes. She switched gears and did a fax campaign aka "F-bomb", which was able to reach a target audience that was previously immune to her marketing attempts.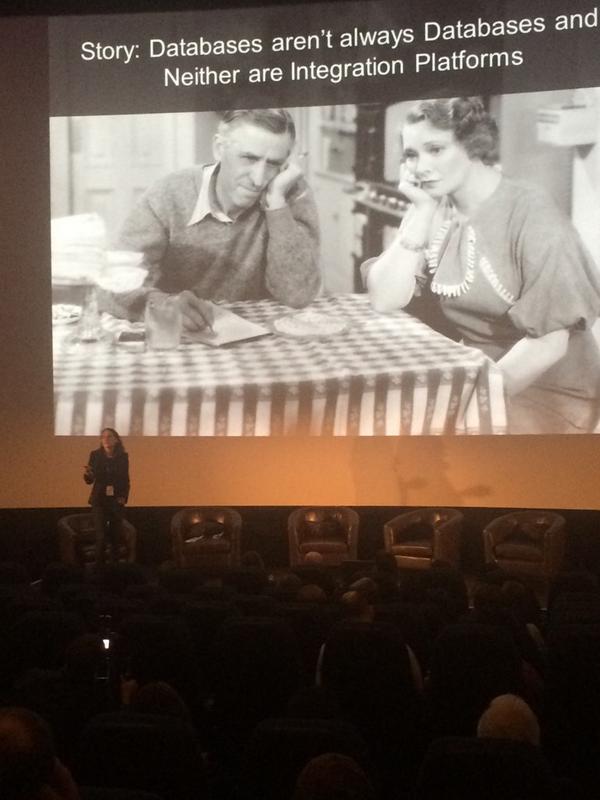 April's stories all had a similar theme, don't assume you can use the same technique for all customers. The story and language may need to be modified slightly but the solution you are selling is the same. It just needs to be reframed for the client.
Key messages:
"Know who you are selling to, not who is purchasing but who is the "real" buyer is."
"The way you tell a story can be the difference and change everything."
---
Built to Last – How to Build a High Growth Global Company in Your Own Backyard
The second Keynote Interview was conducted by Jevon MacDonald and explored John Baker's experience growing Desire to Learn over the past 15 years into a global company from Kitchener, Ontario.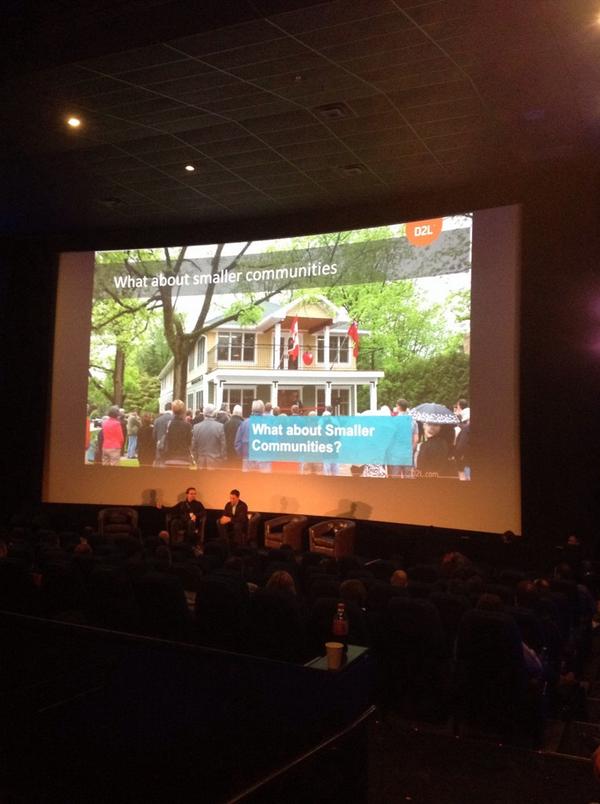 John gave some solid advice to not wait for government to fix any economic development problems but the entrepreneurs should band together and take charge. His example of restoring an old hotel in rural Ontario and turning into a technology startup house is a great example of taking charge.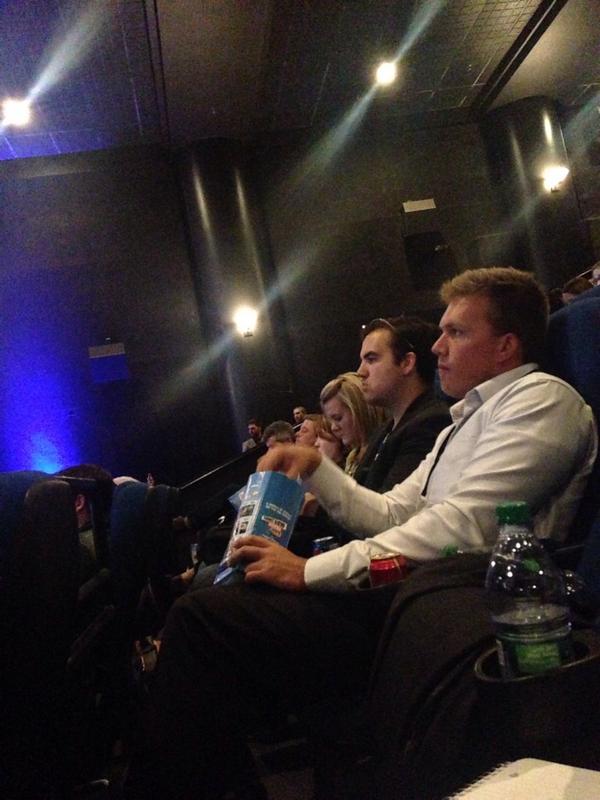 The UIT posse is focused on John and Devon's interview on stage. Thanks to Carol Louie for the great picture of our classmates! John wanted to make sure that we all pay it forward as we obtain success. We are lucky that Gavin Uhma wanted to pay it forward and create our wonderful technology program!
---
Closing the Deal: What do you do when an acquirer comes calling?
Patrick Keefe moderated a discussion between Jeff Thompson and Dan DeBow on their experience building and selling companies.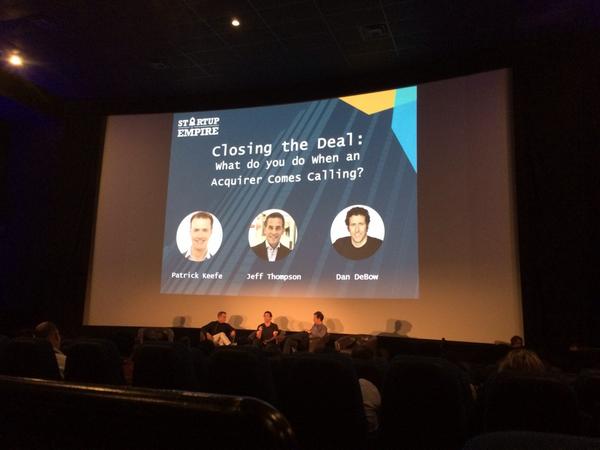 The second "Closing the Deal" panel focused on getting acquired and provided us with some solid advice. I look forward to having this problem because it means you have built something that people are noticing.
Takeaway Messages:
"You want to get your startup bought, not sold"
"Be very careful at playing poker when you're not a professional poker player"
"Getting your startup acquired is a lot like dating, it is not going to happen on the first date!"
"Get a lawyer that has done M&A with tech firms, ideally one that was used with the acquiring firms last acquiree"
---
Building Global Communities
While Brad Feld was not in Halifax for Startup Empire, he definitely had a lot of influence on many of the discussions but none as much as our final panel. I believe every person on the stage has worked with Brad in some capacity over the years.
We heard from Permjot Valia founder of Mentorcamp (who we spend some time with on Monday), Steve Currie VP of Strategy at Communitech, Voja Lalich a startup catalyst that works between San Fran and Belgrade, Bala Kamallakhara a startup movement founder in Iceland and Mike Fraietta a startup tourist, helping out in communities in Colorado, Toronto and now New York.
Much of the great advice the panel gave can be found in Brad Feld's book "Startup Communities". Mainly they have to be led by entrepreneurs and have to engage the entire community. Voja had a great quote "Government can't lead startup activity, they can build the highway but shouldn't attempt to build the cars"! Bala stated "Mentorship is about learning. To be a good teacher, you have to be a good student!"
I would like to personally thank Steve Currie from Communitech because we got to chat at the after party about the role of government here in Canada. He followed up the very next day with a presentation he gave to some angel investors and should help us out in communicating our vision for Cape Breton.